Hello everyone! It seems like the busy bee me has somehow abandoned this virtual home of mine which is my very first love. Well, not anymore, because I am so back, alive and kicking! Just like the exciting and fun days in Sochi, Russia for the 2014 Olympics, there's nothing new for me just yet. We still live in the frozen tundra, that even if it's almost mid-February, still, out snow here is above knee-high-level and it's not looking warm any day soon because the weather forecast still give us snow days ahead.
Meanwhile, we are braving the freezing days pretty well as we have learned to enjoy its beauty. Even on Saturdays, when we go to Church, we still can manage being in dresses despite the cold. Want some evidence? Here's us, three girls, in action!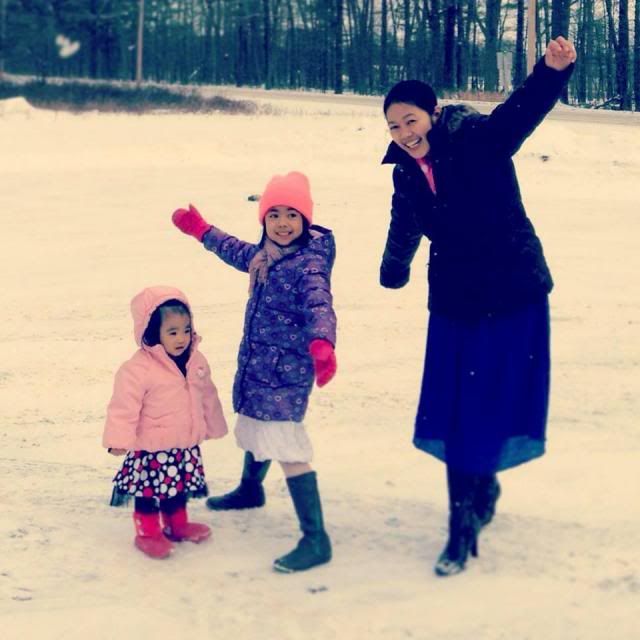 Does that look fun o you? If not, I don't know what else is! Ha ha!
As February is passing by pretty fast, like all months do, we are bracing to finish our school stuff as well, which, if we can manage it, we'll try to be done with everything before May-- homeschooling-wise. There is a huge change in our lives that will take effect come summer and we need to be over with everything that must be over so that we won't be taking with us unfinished tasks in the new chapter of our lives. February hooray to all of us! I am sure we all have different activities and projects set and aimed to be successfully worked on and so I wish all of us the best in whatever endeavor it is.